Cancer & Specified Disease Insurance
The Hartford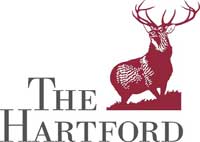 Option to Increase Base Plan Benefits
Extended Benefit Rider for Radiation, Radioactive Isotopes Therapy, Chemotherapy or Immunotherapy (Form Number PA-8872)
This coverage is designed to provide you with supplemental benefits for radiation, radioactive isotopes therapy, chemotherapy, or immunotherapy. It provides benefits in or out of the hospital and is payable for charges in excess of the maximum calendar year benefit specified in the base policy.
Benefits - You may choose a benefit of $200, $500 or $1,000 per day or Reasonable and Customary charges for the following treatments if they are used to modify or destroy cancerous tissue:
a. teleradio therapy using either natural or artificially propagated radiation;
b. interstitial or intracavity application of radium or radioactive isotopes in sealed or non-sealed sources;
c. chemical substances and their administration including hormonal therapy;
d. antigenic preparation or immunosuppressive techniques.
Option to Add Additional Benefits Hospital Intensive Care Insurance Rider (Form Number PA-8870)
This coverage will provide you with benefits if you go into a Hospital Intensive Care Unit (ICU).
Benefits - Your benefits start the first day you go into ICU. The benefit is payable for up to 45 days per ICU stay.
Hospital Intensive Care Confinement Benefit - You may choose a benefit of $325, $425, $525 or $625 per day. It is reduced by one-half at age 75.
Double Benefits - We will double the daily benefits for each day you are in ICU as a result of Cancer or a Specified Disease. We will also double the benefit for an injury that results from: being struck by an automobile, bus, truck, motorcycle, train, or airplane; or being involved in an accident in which the named insured was the operator or was a passenger in such vehicle. ICU confinement must occur within 48 hours of accident.
Emergency Hospitalization and Subsequent Transfer to an ICU - We will pay the benefit selected by you for the highest level of care in a hospital that does not have an ICU, if you are admitted on an emergency basis, and you are transferred within 48 hours to the ICU of another hospital.
Step Down Unit - We will pay a benefit equal to one half the chosen daily benefit for confinement to a Step Down Unit.
Exceptions and Other Limitations - Except as provided in Step Down Unit and Emergency Hospitalization and Subsequent Transfer to an ICU, coverage does not provide benefits for: surgical recovery rooms; progressive care; intermediate care; private monitored rooms; observation units; telemetry units; or other facilities which do not meet the standards for a Hospital Intensive Care Unit. Benefits are not payable: if you go into an ICU before the policy "Effective Date;" if you go into an ICU for intentionally self-inflicted bodily injury or suicide attempts; if you go into an ICU due to being intoxicated or under the influence of alcohol, drugs or any narcotics, unless administered on the advice of a physician and taken according to the physician's instructions. The term "intoxicated" refers to that condition as defined by law in the jurisdiction where the accident or cause of loss occurred.
---
Renewability - As long as premiums are paid on time, you have the right to renew this policy and riders.
Premiums - The premium for this policy and riders may change at any time. The change in premium will apply to all policies and riders of this form number issued in your state of residence.
Other Diseases Covered:
Addison's Disease
Amyotrophic Lateral Sclerosis
Cystic Fibrosis
Diphtheria
Encephalitis
Epilepsy
Hansen's Disease
Legionnaire's Disease
Lupus Erythermatosus
Lyme Disease
Malaria
Meningitis (epidemic cerebrospinal)
Multiple Sclerosis
Muscular Dystrophy
Myasthenia Gravis
Niemann-Pick Disease

Osteomyelitis
Poliomyelitis
Rabies
Reye's Syndrome
Rheumatic Fever
Rocky Mountain Spotted Fever
Scarlet Fever
Sickle Cell Anemia
Tay-Sachs Disease
Tetanus
Toxic Epidermal Necrolysis
Tuberculosis
Tularemia
Typhoid Fever
Undulant Fever
Whipple's Disease
---
Exceptions and Limitations - Benefits will not be paid for the following: Cancer or Specified Disease diagnosed before the policy effective date; or losses not directly due to Cancer or Specified Disease. Claims may be reduced, limited or denied during the first 24 months after the policy effective date if you made a fraudulent misstatement in the application for the policy. A claim may be denied or the policy may be voided at any time if you make any material misstatements in the application for the policy.
Additional Information - Family Plan Coverage may include the following; you; your spouse who is not legally separated or divorced from you; your unmarried dependent children who are under age 21 (25 if full-time students); grandchildren dependent upon you for income tax purposes (in Texas only); and foster children (in North Carolina only). Coverage is subject to each applicant submitting evidence of insurability on themselves and their dependents (if applying) which is acceptable to Hartford Life Insurance Company. No coverage will be issued until your application is approved.
This Sales Brochure is not a contract. It is intended only as a brief description of the policy provisions in the planning of your program. The benefits are determined by the terms and conditions of the policy alone. In all cases, consult your policy for full details.
Upon receipt of your policy, please review it and your application. If any information is incorrect, please contact the Administrator at 1-800-880-2776.
This is not a Medicare Supplement Policy. If you are elegible for Medicare, see the Medicare Supplement Buyer's Guide available from the Company.
This Policy only covers Cancer and the Diseases specified above, unless the hospital intensive care rider is selected.
Underwritten By:
Hartford Life Insurance Company
Hartford, CT 06104
Administered By:
National Plan Administrators, Inc.
P.O. Box 161630
Austin, TX 78716
---
Hartford Life
National Plan Administrators
P.O. Box 161690
Austin, TX 78716

National Plan Admin.
Cancer Plan Policy #1342
Hartford Life
1-800-880-2776